TAKE YOUR TIME BACK WITH THE WONDERFILL + WONDERFORMER BOX & POUR PROCESS!
Wonderformer is a one size fits all, stainless steel, forming mold that includes a release clip for quick removal of the cast model. It can be spread open widely when needed for an extra large casting model. It is also sold with a stainless steel divider insert used for pouring partial molds. Research shows that using this new and improved Wonder method for the box and pour process saves an average of 25 minutes per model.
Wonderformer Advantages
No mixing / no mess
No wax products
Must have tool for pouring implants & appliance retained impressions!
Works with all laboratory, orthodontic and general dentistry applications
Works with any casting material, stone, silicone, and rubber-based products
Results in a superior quality mold while taking less than five minutes to complete
Additional Useful Information About Wonderformers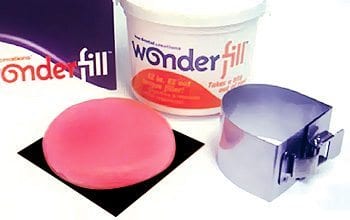 1. Remove approximately 10 ounces of the pre-mixed Wonderfill® and flatten out about one-half inch thick into an approximate 5 inch diameter base pad on a 5″ x 5″ plastic or glass base plate.
2. Insert tray with impression. The impression material can be of any type of product on the market today. Firmly press down the tray with impression material into the Wonderfill® base pad.
3. The Wondformer is positioned similar to that of a cookie-cutter and then firmly pressed down. There is no need to feather the outer perimeter with wax beading or heated wax.
4. Peel away the excess material from around the outside perimeter of the Wonderformer. The excess can be used with the next casting.
5. Move the base plate to the vibrator and pour in the liquid cast material. The Wonderformer does not split open while the cast material cures.
6. When the casting material is cured, remove the finished mold. Then only minimal trimming is needed.
When I use the Wonderformer with the latch semi open my poured model gets locked in. How can this be prevented? What is the flat piece of metal that came with the Wonderformer used for?
The flat piece of metal is for making quadrant models. Also, when making models the metal piece can be used as a dam when opening the back of the Wonderformer. Simply unlock the back of the Wonderformer all the way and then place the metal piece inside the back wall. After this step, pour your model. This will keep the product from running out and your model from getting locked in the Wonderformer.
Fastest, Easiest Wonderfill the Fastest Easiest Way to to Fabricate Boxed and Beaded Impressions by Tom Zaleske
Using Wonderfill and Wonderformer for Implant Application by Tom Zaleske
Remedy for Unlatching Oversized Boxed Impressions Using the Wonderformer by Tom Zaleske
"What I found was that the real game changer for Wonderfill comes from a complimentary product; the Wonderformer, which when used with Wonderfill becomes an accurate, cost effective, time saving "system" for fabricating boxed impressions. The form is a latching metal box or former which, when used like a cookie cutter along with Wonderfill, boxes an impression which is ready to pour in 5 minutes."
Tom Zaleske, AS
---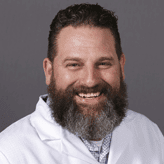 "Boxing and beading final impressions is a necessity for high-end cases. Using Wonderfill will save you 60% of the time and still give you 100% of the accuracy."
James Angelone
(The Denture Man)