EZ Boxing with Wonderwrap!
Wonderwrap Magnetic Boxing Strips are a flexible replacement for wax boxing strips. These one size fits all strips are convenient, reusable and easy to clean. Wonderwrap is uniquely designed with a notch cut out for the impression tray handle. This makes it easier for the strip to easily conform to the shape of the impression. Wonderwrap Magnetic Boxing Strips is best used with Wonderfill Tongue & Void Filler for an easy clean up!
Advantages:
Magnetic
Flexible
Reusable
Easy to clean
Impression tray handle notch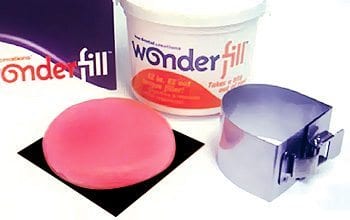 1. Remove approximately 10 ounces of the pre-mixed Wonderfill® and flatten out about one-half inch thick into an approximate 5 inch diameter base pad on a 5″ x 5″ plastic or glass base plate.
2. Insert tray with impression. The impression material can be of any type of product on the market today. Firmly press down the tray with impression material into the Wonderfill® base pad.
3. The Wondformer is positioned similar to that of a cookie-cutter and then firmly pressed down. There is no need to feather the outer perimeter with wax beading or heated wax.
4. Peel away the excess material from around the outside perimeter of the Wonderformer. The excess can be used with the next casting.
5. Move the base plate to the vibrator and pour in the liquid cast material. The Wonderformer does not split open while the cast material cures.
6. When the casting material is cured, remove the finished mold. Then only minimal trimming is needed.
Fastest, Easiest Wonderfill the Fastest Easiest Way to to Fabricate Boxed and Beaded Impressions by Tom Zaleske
Using Wonderfill and Wonderformer for Implant Application by Tom Zaleske
Remedy for Unlatching Oversized Boxed Impressions Using the Wonderformer by Tom Zaleske
Save time with Wonderwrap and Wonderfill by Dental Creations, Ltd.

Wonderfill + Wonderformers
– by Tom Zaleske AS

Model Making Made Easy
– by Kevin Morris, CDT

Making Processed Baseplates More Efficient
– by Tom Zaleske, AS

Saving Time on Fabrications – Without Sacrificing Quality
– by Tom Zaleske, AS